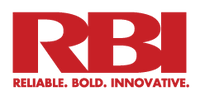 DOMINATOR
The Dominator Series from RBI, with sizing from 300 to 2,100 MBH, offers the ultimate flexibility in boiler and water heater application, all at a competitive price. With efficiencies nearing 85.1%, the Dominator has one of the highest efficiency levels available in non-condensing boiler and water heater market. Capable of operating using mechanical room air for combustion or by drawing outside air directly as a sealed combustion product, the Dominator can vent combustion gases vertically or horizontally with factory equipped draft-inducer kits.
In commercial boiler applications where mechanical space is limited, the Dominator's stackable frame option allows units to be stacked two-high, adding valuable BTUs while keeping the footprint to the size of a single unit. In addition, the Dominator provides up to four stages of firing, allowing the boiler to match the heating load more closely.
And with built-in serviceability features, including a slide out heat exchanger, contractors no longer need to remove the heat exchanger for service or repair, which, when coupled with high efficiencies, makes the Dominator a cost-saving option for any boiler application.
Available Options
https://www.literature.mestek.com/dms/RBI%20Water%20Heaters/Dominator%20Boiler%20Masterspec%20(MSDOM-9).pdf - https://www.literature.mestek.com/dms/RBI%20Water%20Heaters/Dominator%20Water%20Heater%20Masterspec%20(MSWDOM-7).pdf
---