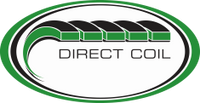 ENGINEERED PRODUCTS - AIR COOLED CONDENSERS
UL APPROVED
Direct Coil Air Cooled Condensers are designed for outdoor applications with housing available in heavy-gauge galvanized steel or aluminum. Our engineers have designed our product for optimum heat transfer, ease of installation, dependable operation, energy efficiency, and options for quiet operation. Extensive testing of the condenser ensures a long and trouble-free service life.
The proven floating condenser coil concept prevents the refrigerant from carrying tubes from contacting the tube sheets. This feature allows for thermal expansion and contraction of the tubes without the risk of tube damage at the tube sheets, thereby reducing the chances of refrigerant leaks. To further ensure product durability under thermal expansion and vibration, these coils are also manufactured with stronger brazed joints.
---