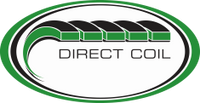 CUSTOM COILS - WATER COILS
CSA & UL APPROVED - Direct Coil is an advanced manufacturer of custom-designed Round Tube Plate Fin Heat Exchangers (Coils) for the OEM, Custom & Replacement markets. Our coils can be selected using our proprietary coil selection software on their size or performance. Our wide range of tube sizes, fin spacing, and coil connection orientations allow for a drop-in coil fit. 100% of our coils are pressure tested for leaks to ensure we are producing quality products.
Our coils use mechanically expanded seamless copper tubes, that are manufactured to ASME standards and available with either smooth or enhanced internal surfaces. They are available in 5/16", 3/8", 1/2" and 5/8" Tube Diameters. Plate type die-formed aluminum fins are available as either flat, corrugated, or lanced with straight or rippled edges, with 5 different fin thickness options. Our fins are fully collared and have a staggered tube pattern for enhanced heat transfer and lower air friction. Our coil casings are available in a wide variety of thicknesses & materials (including galvanized steel, aluminum, stainless steel, and copper). Our optional corrosion-resistant materials and protective coating help increase the service life of the coil. - Direct Coil Water Coils are designed for comfort conditioning and heating applications that have been extensively tested for heat transfer between air and fluid (water or water-glycol mixtures). Turbulators are available for applications that require additional capacity at a lower flow rate. Chilled Water coils can be constructed with intermediate drain pans, to avoid moisture carryover on taller coils.
---