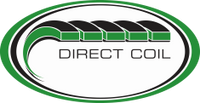 CUSTOM COILS - EVAPORATOR COILS
CSA & UL APPROVED
Direct Coil Evaporator Coils (aka Direct Expansion Coils) are designed to deliver maximum heat transfer efficiency under a wide range of operating conditions.
We offer a wide variety of coil circuiting, including Interlaced/Face split to meet performance requirements. Evaporator coils are counterflow circuited with optimized size suction headers and refrigerant distributors. Distributor tubes are equal lengths to ensure equal distribution of refrigerant into each circuit.
To ensure product durability under thermal expansion and vibration, the coils are manufactured with the highest quality materials and standards.
---