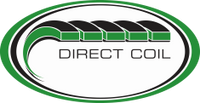 CUSTOM COILS - BOOSTER COILS
CSA & UL APPROVED
Direct Coil Booster Coils are designed to maximize capacity in applications where water flow is limited. High performance is achieved through the coil circuiting, which increases water velocity.
The coils are offered with 1 – 4 rows of continuous tubes. MPT connections are provided at the inlet and outlet tube locations. Slip and Drive or Standard casing options are available.
---